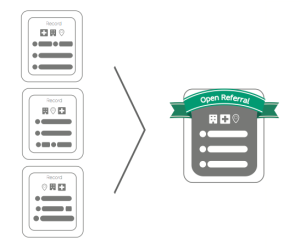 The DDOD program is currently assisting the proponents of a new open standard for publishing human services, called Open Referral.  In order for us to be able to justify the promotion of this standard and publication of data to it, we're first looking to develop clear and concise use cases.
The Background
Open Referral is a standard that originally came out of a Code for America initiative a couple years ago, with the goal of automating the updating of human services offered across many programs.  Doing so would not only make offered services more discoverable, but also lower the cost of administration for the service providers and referring organizations.
The Problem: A landscape of siloed directories
It's hard to see the safety net. Which agencies provide what services to whom? Where and how can people access them? These details are always in flux. Nonprofit and government agencies are often under-resourced and overwhelmed, and it may not be a priority for them to push information out to attract more customers.
So there are many 'referral services' — such as call centers, resource directories, and web applications — that collect directory information about health, human, and social services. However, these directories are all locked in fragmented and redundant silos. As a result of this costly and ineffective status quo:
People in need

have difficulty discovering and accessing services that can help them live better lives.

Service providers

struggle to connect clients with other services that can help meet complex needs.

Decision-makers

are unable to gauge the effectiveness of programs at improving community health.

Innovators

are stymied by lack of access to data that could power valuable tools for any of the above.  
– Source: Open Referral project description
For potential use cases, there have been a small handful of government programs identified as potential pilots.  These include:
The Competition
Open Referral is not without competing standards.  In fact, the AIRS/211 Taxonomy is already widely used among certified providers of information and referral services, such as iCarol.  However, AIRS/211 has two drawbacks in comparison with Open Referral.  
First, it's not a free and open standard.  While there are sample PDFs available for parts of the taxonomy, a full spec requires a subscription.

"If you wish to evaluate the Taxonomy prior to subscribing, you can register for evaluation purposes and have access to the full Taxonomy for a limited period of time through the search function. "  – Source: UAIRS/211 Download page and Subscription page
The taxonomy also requires an annual license fee, which could be a challenge to continue funding in perpetuity for government and nonprofit organizations.
"Organizations need a license to engage in any use of the Taxonomy."
— Source: AIRS/211 Subscription page
Second, the AIRS/221 taxonomy if highly structured and extensive.  While that has advantages for consistency and interoperability, it raises other challenges.  It leads to a high learning curve and therefore sets potentials barriers for organizations without technical expertise.  Open Referral states that it is a more lightweight option.
It should also be noted that there's a CivicServices schema defined for use with  Schema.org.  Its approach is to embed machine-readable "Microdata" throughout human-readable HTML web pages.  Schema.org standards are intended to be interpreted by web engines like Google, Bing and Yahoo when indexing a website.  That said, the degree of adoption for CivicServices in particular – from either search engines or information publishers – is unclear at this point.
Onward!
In concept, the Open Referral standard would lower the cost and lag time for organizations to update relevant services for their constituents.  The standard is being evangelized by Greg Bloom, who has started with Code for America and has been reaching out to organizations who would be consuming this data (such as Crisis Text Line, Purple Binder and iCarol) for the purpose of defining a compelling use case.
There's a DDOD writeup on this topic at "Interoperability: Directories of health, human and social services", intended to facilitate creation of practical use cases.
Further reading…
Additional information on Open Referral can be found at: