According to OSTP, there has been growth in the use of public access repositories intended to store results of federally funded research.  That's good news.  Despite a mandate from February 2013 that such results be made available, the adoption by the research community has been slow.  Challenges include the competitive nature of research, mixing of multiple sources of funding, licensing conflicts with private peer reviewed publications, privacy concerns for study subjects, and many others.  Actually, even the raw data and source code for the calculations needs to be m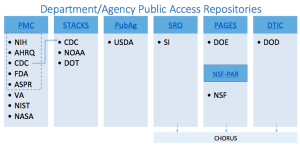 ade available.  For a research study, the clearest measure for meeting this mandate is complete reproducibility.
So while we're quite far away from the ultimate goal, there have been incremental gains.  The HHS statistical agencies (including NIH, AHRQ, CDC, CFDA and ASPR) in particular have been using two systems: PubMed Central and CDC Stacks.  According to the latest figures
from OSTP, on a typical weekday PubMed has than 1.2 million unique users who are downloading 2 million articles.  While that's impressive, the actual growth in the number of articles in the two years since the mandate is approximately 30% (from about 2.7 million to 3.5 million).  So much more work remains.