Identifying Datasets for Invisible Illness Codathon
Several datasets were identified for use on a recent White House codathon on mental illness and suicide prevention.  (See related press release.)  Many of them were from HHS (U.S. Department of Health and Human Services) agencies: CDC, SAMHSA and AHRQ.  Datasets throughout government were tagged with "Suicide" for easy retrieval.  These tags were then ingested and aggregated up to Data.gov, specifically http://catalog.data.gov/dataset?tags=suicide.
Source: White House – Suicide Prevention/Mental Health & Data for Invisible Illnesses
Data sources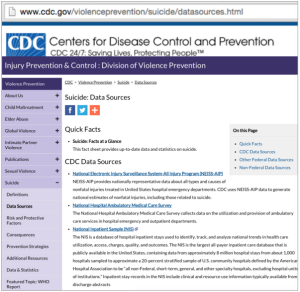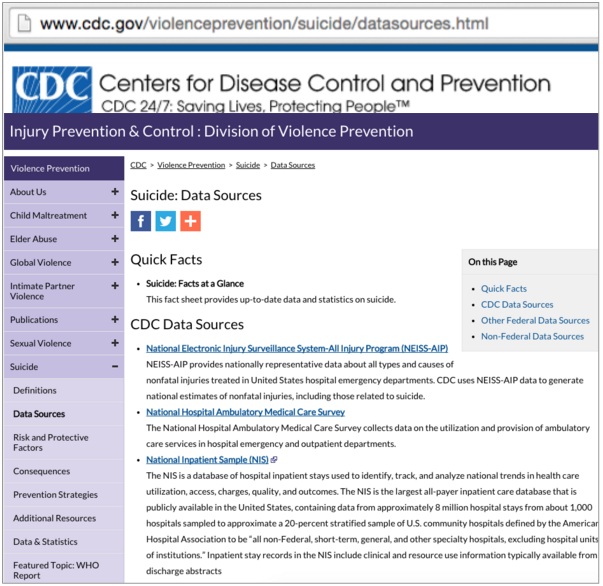 WHO Statistical Information System (WHOSIS)

–

WHOSIS, the WHO Statistical Information System, is an interactive database bringing together core health statistics for the 193 WHO Member States. It comprises more than 70 indicators, which can be accessed by way of a quick search, by major categories, or through user-defined tables. The data can be further filtered, tabulated, charted and downloaded.
International Crime Victims Surveys
National Inpatient Sample (NIS)

–

The NIS is a database of hospital inpatient stays used to identify, track, and analyze national trends in health care utilization, access, charges, quality, and outcomes. The NIS is the largest all-payer inpatient care database that is publicly available in the United States, containing data from approximately 8 million hospital stays from about 1,000 hospitals sampled to approximate a 20-percent stratified sample of U.S. community hospitals
National Survey on Drug Use and Health (NSDUH)

–

Beginning in 2008 the National Survey on Drug Use and Health Report starting asking suicidal thoughts and behaviors of all adults aged 18 or older. Along with responses for the suicide-related questions, the survey collects nationally- and state-representative information on socio-demographic items such as age group, sex, ethnicity, employment, and income.
Pan American Health Association, Regional Core Health Data Initiative

–

In 1995, the Regional Core Health Data and Country Profile Initiative was launched by the Pan American Health Organization to monitor the attainment of health goals of the Member States. The initiative includes a database with 117 health-related indicators, country health profiles, and reference documents.
The American Association of Suicidology

–

The goal of the American Association of Suicidology (AAS) is to understand and prevent suicide. The Research Division of AAS is dedicated to advancing knowledge about suicidal behavior through science.
Suicide Attack Database

– current CPOST-SAD (release contains the universe of suicide attacks from 1982 through June 2015, a total of 4,620 attacks in over 40 countries.
Behavioral Risk Factor Surveillance System

(BRFSS) —Collects data on a variety of behavioral health issues through a national telephone survey developed by the US Centers for Disease Control and Prevention (CDC), and administered to a sample of households in the US. Some states include questions on suicidal behavior.
Department of Defense Suicide Event Report (DoDSER) Data – The Department of Defense Suicide Event Report (DoDSER) is the system of record for health surveillance related to suicide ideations, attempts, and deaths.
Overview for using these data sources