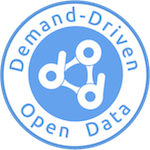 The Demand-Driven Open Data (DDOD) program has recently been featured on DigitalGov.  (See DigitalGov article.)
It should be added, that a major project in the works is the merging of DDOD tools and methodologies into the larger HealthData.gov program.  The effort seeks to maximize the value of existing data assets from across HHS agencies (CMS, FDA, CDC, NIH, etc.).  Already planned are new features to enhance data discoverability and usability.
We're also looking into how to improve the growing knowledge base of DDOD use cases by leveraging semantic web and linked open data (LOD) concepts.  A couple years ago, HHS organized the Health Data Platform Metadata Challenge – Health 2.0.  The findings from this exercise could be leveraged for both DDOD and HealthData.gov.