I had the opportunity to attend a presentation on "Entry and Investment Decisions in the
Pharmaceutical Industry" by Anita Rao, PhD at Booth School of Business, University of Chicago.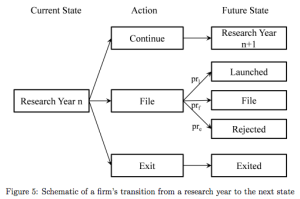 The concepts examined are applicable for any product that has lengthy periods of pre-launch R&D investment with a presence of competing products.  But there's an aspect to this particular research that's unique to pharmaceuticals: the uncertainty factor introduced by FDA's drug approval process.  With that in mind, the paper analyzes historical data from FDA to infer how firms working on potentially competing products may respond each other's actions prior to approval.
| | |
| --- | --- |
| | Quick side note…  I love what you can do by analyzing readily available historical data in a new way.  I think there's an opportunity to improve on this model by leveraging valuable data that's still buried deep within the FDA.  That's exactly the kind of opportunity Demand-Driven Open Data (DDOD) was designed to address. |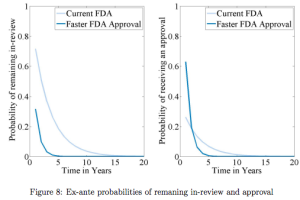 There was one key question that it aimed to answer: What net effect would accelerating the drug approval process have on investment decisions and NPV (net present value) of each product.  The conclusion reached was that the increased incentive due to accelerated return on investment was significantly stronger than the disincentive due to risk of intensified competition.
Most immediately this model has potential to assist investors in making better decisions in regulated industries with substitute products and long investment time periods.  Investors in the areas of medical devices, agriculture and alternative energy might also be able to use this model.
But I'd love for this model to go beyond the use by investors and help inform public policy.  For that to happen, it needs to take into account a bigger picture, including the cost to the regulating body and by implication typically the taxpayer.  So in this particular case, we would need to assess the cost FDA bears in its current approval process, as well as estimating the likely increases due for accelerated approvals.
To take the concept further, there are certain questions that policymakers could address in order to maximize the total economic value to all participants.   For example, are there opportunities for the firms to fund or offset some of the additional cost from accelerating the approval process?  Is there an efficient way for the FDA to prioritize approvals more dynamically based on economic or public health value?  And is there a way to do so without significant conflicts of interest and minimal additional risk to consumers?